THE AVALANCHE SEO CLASS
Because There's No MBA for SEO
Join a group of people learning how to get results through SEO.
Create a website that gets results (emphasis on SEO and content marketing strategies

).

A 90-day class (virtual, recorded, class-style teaching with a small class and of course, homework).
Access to all our tools and resources (our private documents and processes as well as an exclusive Facebook group).
GET STARTED
Apply Now
We want you to be our next case study.
If we don't think we can help you get results, we don't want to waste anyone's time.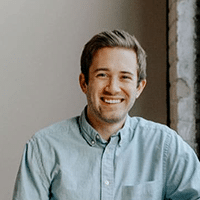 Who's teaching, anyway?
Lance Beaudry, Co-Owner of Avalanche Creative
I went to school to be a teacher. (Mostly because I wanted an audience to listen to my bad jokes every day.)
I built Avalanche Creative on a shoe-string budget. No formal training. Just learning by doing.
Today, Rayanne, my wife and co-owner, and I are living the lifestyle we desire because of my insatiable curiosity and desire to teach and learn. This allowed me to teach myself how to grow businesses by using websites.
I built Avalanche Creative and help other businesses grow theirs with the exact same strategy and tactics I teach in this class.
What you'll learn and acheive:
This isn't a course that you take one time and never apply the knowledge.
You're going to build a website capable of real results (if you do the work) like others have:
500% Increase in Website Traffic
Content of the Class
The content provided is broken down into 3 main categories. 
We'll go over the basics of building a lead-generating "demand-based" website.
Sessions
Overview of Demand-Based Websites.
How to Use this Group.
These sessions teach you how to identify exactly what you need on your website in order to bring valuable, free, organic traffic to your site. This process will teach you how to build an evidence-based SEO & content strategy.
You'll learn everything at a 10,000-foot view and then we'll fly down for a more detailed view.
This is where you'll start putting your website to work.
Sessions 
Project Setup
SEO Audit
Keyword Research
Sitemap Planning
Competitive Analysis
Content Planning
Content Creation
Content Promotion
Strategy & Reporting
What You'll Accomplish
You'll learn how to organize content on your website and why that's so important.
You'll find opportunities to attract valuable traffic through your competitors.
You'll learn the SEO basics and best practices.
You'll create content that your audience will love.
You'll learn how to determine what's working and what's not on your website.
You'll learn how to build your website quickly with our WordPress site, Base Camp. You'll build and launch a website you can easily manage and you'll know exactly what to do to put it to work - generating leads and sales; growing your business.
Sessions
Setup Hosting
Building Your Website
What You'll Accomplish
You'll learn the basics of hosting and getting your site setup (it's really easy).
You'll learn how to quickly build a drag-and-drop website in WordPress.
You'll launch your website and start building momentum.
Six 1-hour classes over 90-days

Homework (to make sure you get results)

Small class size of 10 or less

Access to all of our training materials

Access to private Facebook group

Email support during the duration of the class

A private one-on-one session with Lance
Frequently Asked Questions
It's not an on-demand course. It's a small class of real people, learning together and keeping each other accountable for doing the work to get the results.
Unlike other courses or classes that leave you asking "what's next?" you'll actually have accomplished something (if you do the work) and you'll know exactly what to do to keep getting results.
No. But you'll have a solid foundation and a framework for continuous improvement (and a growing community of support that you can tap into).
We've taken thousands of hours of our time learning, failing, testing, and improving to boil it down into this 90-day, 6 session class.
Each session is broken down into three distinct categories:
Learn - Tools, tactics, terminology.
Observe - Watch Lance do real work.
Do - Q & A to make sure you're prepared to go to do your work.
Base Camp is our preferred stack of WordPress tools for building your website.
It's mostly based on Beaver Builder, a premium drag-and-drop page and theme builder.
It includes several premium plugins worth over $1,094/year.
The "Building Your Website" section of the content teaches you how to use this set of tools.
You can get Base Camp when you host your website through our partner account.
Here's what we estimate:
6 hours for the bi-weekly live class sessions.
At least 3-5 hours per week of independent work (you'll be given homework).
If you invest a total of 60-80 hours within the 90-day period, you'll be in a good position.
You'll need the following at a minimum:
An internet connection.
Access to the group.
A "get it done" attitude.
If you want to actually build a website:
You'll need web hosting
A content management system
(We can help with both of those)
Other software that we use within the course, which is optional, but will help you succeed, includes:
SEMRush
Slickplan
Google Drive
ClickUp
We want people who are committed because it reflects poorly on Avalanche Creative if you don't do the work that is required throughout the class.
We want each person that takes a class to be our next case study.
That's fine.
We won't spend a lot of time on the topic of building a website. However, it is important to understand that you'll need to be able to manage the content of your site to get good results from it. We'll make recommendations and provide tools to make it easier for you to get results from SEO and content marketing. 
Yes.
You can pay for the class in 4 installments:
$1,000 deposit.
$500 for the first 30 days.
$500 for the next 30 days.
$500 for the last 30 days.