Creating the Perfect SEO Content Template in Google Docs
Learn how to create an SEO Content Templates in Google Docs to help drive new traffic to your website from the search engines. SEO Content Templates provide specific recommendations and directives for creating new content on your website with the purpose of improving your SEO.
???? Related Resource????
How to Actually Use Keywords for SEO
A complete guide on how to identify searcher intent, organize keywords and create content that ranks.
In this article, we're going to walk you through how our SEO Strategists at Avalanche Creative create SEO Content Templates in Google Docs. An SEO Content Template is given to writers and other content creators (photographers and videographers, for example) as a framework for exactly what needs to be created in order to publish a page that ranks for a given topic.
Getting Started
Before you begin building a content template, you'll need a few things:
A Google doc.
A keyword research tool (we'll use SEMRush in our examples).
You're also going to need some understanding of content strategy and working SEO knowledge. (Learn more about creating a thorough SEO process.)
We're going to assume that you've already selected keywords that are important to your business and you know how to actually use keywords for SEO.
Here's a quick, 3-minute video on how content templates work and how to create them:
1. Benchmarking & Identifying Valuable Content
Let's say you want to get in front of people that want to learn how to meditate.
Using Google, we'll search something like, "how to meditate." The first organic result that comes up is from Mindful.org.
We'll click through to this page and check it out briefly to make sure it seems like the ideal reader is the same one we'd like to get in front of.
After we've decided it is, we'll take the URL of this page and put it into SEMRush's Organic Research tool:
In the screenshot above, within the red boxes, you can see a few important metrics:
Keywords, which are the total number of organic keywords this page appears in Google's top 100 results for.
Traffic, which is an estimation of how much traffic this page brings to the site within a 30 day period, based upon the volume and position of all the keywords.
Traffic Cost, which is what Mindful would have to pay for that traffic if they were bidding on the keywords that were driving that traffic and didn't hold any of organic keyword positions.
Lastly, the one keyword, "meditation," which is bringing in an estimated 28.92% of the entire website's traffic in the last 30 days and happens to go to this page.
These 4 metrics alone tell us that this page and topic are incredibly valuable to Mindful and therefore, there is likely a lot of value to our strategy. Once you've identified a page like this, move on to the next step.
2. Identifying Content Gap Opportunities
Now that we have identified a page to compete against, we can start planning our content template. We'll do this by finding opportunities to improve upon the competitor's content. We call this a content gap analysis.
A content gap analysis is looking at content empathetically through the eyes of the reader and understanding where the best performing content may not be providing everything a website visitor could need.
This involves considering the true intentions behind every keyword the page ranks for and considering how you might create more helpful content to match those intentions.
Start by creating a Google Doc where you can put a framework together of what your content might include. This will be inspired by your competitive benchmarking, but shouldn't become a copy of your competition.
We started by looking through some of the keywords Mindful ranked for and saw a few that indicate that people are looking for ways to meditate at home:
Now, you might think that there is no difference between "how to meditate" and "how to meditate at home." And you may be right, but that's not always the case.
People may be searching for ways to meditate at home because they know it can be hard to find space to meditate at home, especially if you've got a busy life and kids to take care of.
Even though our example URL ranks number one for "how to meditate" and number three for "how to meditate at home" they do not have one mention on that page of the word "home."
We've just identified a possible content gap. It may be worth it to create a piece of content around the topic of "How To Meditate at Home."
3. Building Your Content Template
Once you've identified some gaps in your competitor's content for the topic you are writing on, you can start building your content template.
Create a Google Doc with 4 main sections

Competitive Benchmarking
Page Content
Meta
Keywords

In the first section, include a screenshot and link to your competition for reference.

In the Keywords section, include any topically related keywords that you have identified with a keyword research tool. This will help you in the next step, and should be kept in the document for the writer. These keywords should be used to inform and inspire the writer.
Create a "Page Content" section for the content of your topic. Include a section for your header, which should include a title and description of the page or post.Break up the content into sections, starting with H2s. Think about the main 4-6 themes of the topic. These are likely to become your H2s.

Once you've added in your H2s, continue to break up the sections into subtopics.
Lastly, don't forget to consider your meta/page title and description.
4. Using Your Content Template
Once you've put together the first draft of your content template, share it with key stakeholders, writer(s), and other content creators.
Keep a few important items in mind:
These are living documents. It's not uncommon to go through a few iterations before you have a great template built.
The complexity of the topic and competitiveness of the topic is going to influence how difficult it will be to put together a great content template.
The writer(s) can either write within the document or create an all-new document. This is going to depend on your preference.
We often have clients simply include the raw content from the Page Content section in a question/answer format and then have a writer clean it up for publishing on the website.
Conclusion
SEO Content Templates help you mitigate the risk of a bad investment of time and resources into content and SEO. Use them to help your entire marketing team understand the value of your SEO strategy and keep your team focused on creating content that is valuable to your target audience. Content that is valuable to your potential customers is content worthy of investing in.
Learn More
Still hungry for more SEO knowledge? Want bite-sized tips and tricks about SEO in your inbox every Wednesday? Sign up for our weekly email today—all knowledge, no sales.
The Avalanche Email: Fun. Simple. Educational. No Selling.
Learn Result-focused SEO & Content
Join over 2,272+ others who get one email every Wednesday with simple instructions on how to get more website traffic and leads through SEO and content marketing. (Learn more about the email)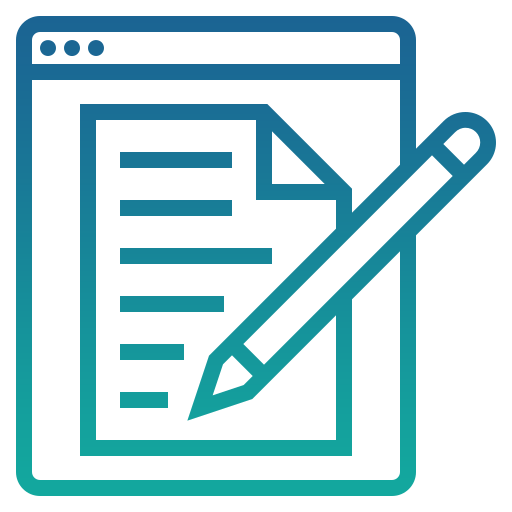 PDF
Download our SEO Process.
Download our SEO Process PDF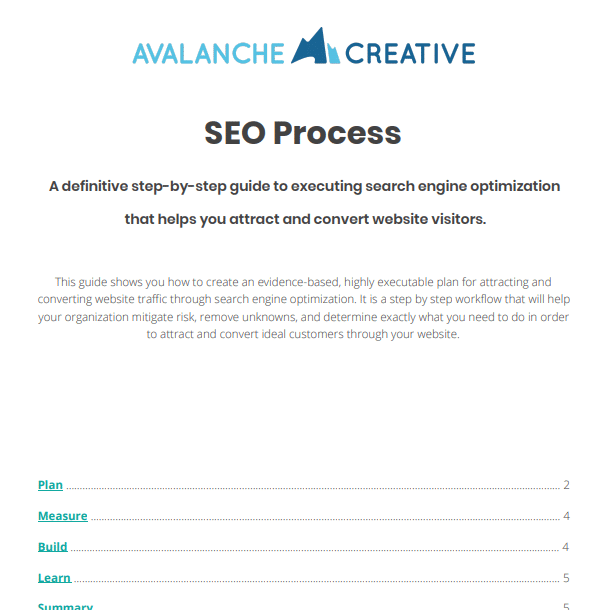 A step-by-step guide to SEO that attracts and converts website traffic.



👉 Create Content that Ranks
Join 2,272+ others who receive a weekly email on how to create SEO content that ranks.
No selling. All value.