Our Step-by-Step SEO Process
What are the most important SEO steps? Learn about keyword research for SEO, sitemaps, content writing, and more important parts of the SEO process.
???? ARE YOU UP FOR THE CHALLENGE? ????
Get a Bullet-Proof SEO Strategy
Meaningful results from SEO are nearly impossible without a process. Every website deserves needs a custom process to execute SEO. We've got the process for creating YOUR process. Apply to get yours.
Avalanche has a curated SEO process that brings long-term results to the clients we work with. It's been perfected over the years we have been in business as we grow in our expertise in SEO. We don't believe in hoarding the secrets to our success, however, so we've decided to share the process of our SEO standard operating procedure (SOP) with you. 
1. Conduct SEO Research
SEO Audit Process
The SEO audit process starts with us evaluating current rankings for a client's existing site pages and determining how those rankings could be improved. We evaluate not only how high a page is ranking in search engine results, but also how many people are clicking on the link to the page. We also determine if the keywords a page is ranking for accurately reflect the audience's intention when searching. 
Customer Research
Customer research is an essential part of the SEO process with the goal of gaining an understanding of a client's target audience. We have our own customer research process we adhere to which gives our clients a competitive advantage in their field. 
By engaging in thorough customer research, we can create quality content that a client's audience is looking for and will find helpful. Empathy-driven SEO that understands consumer needs will lead to pages and posts that prevail against other high-ranking results. 
Keyword Research for SEO
Quality keywords are search queries that match what the target customer is looking for based on our customer research. To conduct proper keyword research for SEO, we need to find relevant keywords that have a high search volume.
These keywords should have an appropriate level of specificity while also being popular search terms. For example, "sports" might have an incredibly high keyword volume, but "sports equipment for kids" would be a much better keyword for a targeted demographic. 
Keyword Analysis
Keywords aren't always quite what they seem. That's why keyword analysis is one of the most important SEO process steps. Looks can be deceiving; for instance, "depression in America" may seem like a great keyword for a mental health page. However, the SERP results, or the results that are displayed when you search for the term, may end up showing information about the Great Depression.
That isn't your target audience, so you certainly don't want that keyword. A keyword analysis will show you if the keyword you've chosen is relevant to your topic at hand. 
2. Establish Framework Development
Sitemap Creation
The best way to plan content for a new website is to create a sitemap. To create a sitemap, we need to decide which pages are going to be a vital part of the website, and how the navigation will work. For instance, a page about fall scents would be under a page about candles, and that may be under a product category on the menu. 
Each of these pages will have strategically selected keywords to rank for, and crafting a website based on SEO topics will lead to greater visibility in search engines and higher conversion rates. 
Keyword Mapping
Avalanche has a keyword mapping process that helps us identify which keywords might be good for certain pieces of content and which may not be useful at all. Keywords can be placed into subcategories or categorized by user intent. 
SEO Content Template Creation
Creating an SEO content template involves finding a list of quality, high-volume keywords for a piece of content and implementing them in headers and metadata. The content template acts as a framework for the content writing stage. 
Custom SEO Guide
A custom SEO guide is essentially a playbook for how to get a client to successfully rank. This plan is tailored to each individual client and contains an audit report, competitor research, keyword research for SEO, SEO content templates, and more. 
3. Perform Result Analysis 
Competitive Analysis
In order to find out where a client can thrive, we have to know where their competitors are underperforming with a competitive analysis. Using the data from our analysis, we can examine the advantages and disadvantages of competing companies and work on formulating a plan to rise above the competition. 
Track Website Conversions
Ranking isn't always enough. If everyone is going to your website but none of them are buying your product or signing up for your services, what is the point of it all? Tracking website conversions allows us to see if the visibility our SEO work has achieved is translating into increased revenue. We want our clients to see profit as a result of our efforts.
4. Create SEO Content Strategy
SEO SOP Execution
An SEO SOP is a master checklist for all the SEO tasks that need to be done. We tick off the boxes as we complete the projects in our SEO process. 
SEO Content Creation
Content is the backbone of SEO. We have in-house SEO content specialists as well as freelance content writers who have familiarized themselves with various industries and SEO content strategies. 
The key to successful SEO content writing services is to write for people, not for the search engines. Implementing keywords is important, but without content that people want to read, the page or post serves no real purpose. 
Conversion Tracking
We want a high website conversion rate for our clients, and that starts with readable writing. Avalanche keeps an eye on published content pieces to make sure that people are clicking on the client's website when it shows up in SERP results and that the demographic that finds the site has found what they've been searching for. 
SEO Backlinks  
Acquiring SEO backlinks is an often overlooked part of the SEO process. Backlinks are the links that other websites include that lead to your pages. This is important not only for the search engine algorithms, but also for building credibility in the eyes of potential consumers. 
5. Make Adjustments
Keyword Tracking
After creating an initial SEO content strategy, we regularly return to check on how pages are ranking for different keywords. Keyword research for SEO is an ongoing process and requires constant readjustment. What users are searching for today, they may not be searching for two months from now. 
Google Analytics Data
We use Google Analytics to observe conversion rates and determine which direction to focus our SEO content. If a high number of people are searching for the keywords on a client page about boat winterizing, but nothing has come of it, we will need to examine the data and figure out the reason behind it, then make changes accordingly.
SEO SOP Reevaluation
The SEO SOP needs to be periodically reevaluated to make sure it is performing as it should. If we are not seeing the desired results for a client's website, we need to shift our strategy in a new direction and keep working until we see success. 
Vital Aspects of the SEO Process
Content
Content is the fuel that drives great keywords and successfully ranking pages. If our SEO content strategy isn't effectively being implemented with content creation, all the keyword research we've done is pointless. It's the equivalent of planting seeds without watering them, but expecting fruit trees to grow. A content writer needs to see the vision of the SEO strategist and bring that vision to life. 
Rankings
After creating quality content, we want plenty of people to see it. Ranking high in the SERP is a fundamental goal of the SEO process. Most people aren't willing to scroll past the first page of Google. That means we need client content to be up front and center. 
SEO Process for a New Website
An SEO process is especially important when creating a new website. A new website symbolizes a chance for a fresh start with a polished company image. Creating a sitemap and figuring out how to get pages to rank via keyword research is how we turn the creation of a new website into an opportunity for success. 
See Our SEO Process in Action
Want to see how our SEO process would work its magic on your business? Contact us for a consultation, and we can discuss your goals and expectations to see if we're a good fit. 
Frequently Asked Questions
How Are Sitemaps Important to the SEO Process?
Website pages tend to see a lot of traffic. Optimizing those pages for SEO is a vital part of the SEO process because it determines what kind of users will come to the site. We want to make sure that a client's website is as geared toward its target audience as possible. 
How Long Does the Entire Process Take?
The process of initial engagement (keyword research, audit, competitor analysis) takes a couple months. The rest of the SEO process is an ongoing operation. We provide regular reports to clients that show their progress. 
When Can I Expect Results?
The time it takes to see results from SEO can vary greatly, with most clients seeing significant results in about six months. 
The Avalanche Email: Fun. Simple. Educational. No Selling.
Learn Result-focused SEO & Content
Join over 2,272+ others who get one email every Wednesday with simple instructions on how to get more website traffic and leads through SEO and content marketing. (Learn more about the email)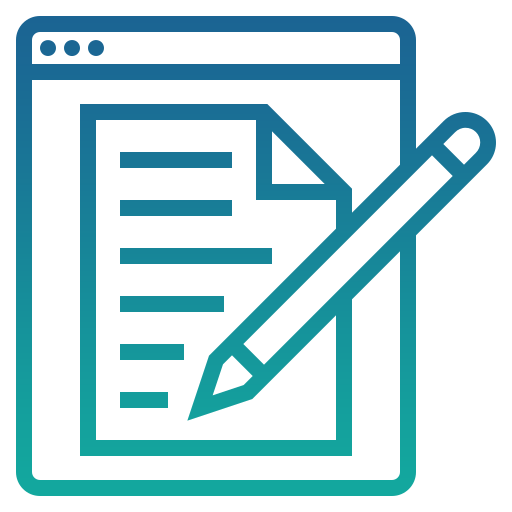 PDF
Download our SEO Process.
Download our SEO Process PDF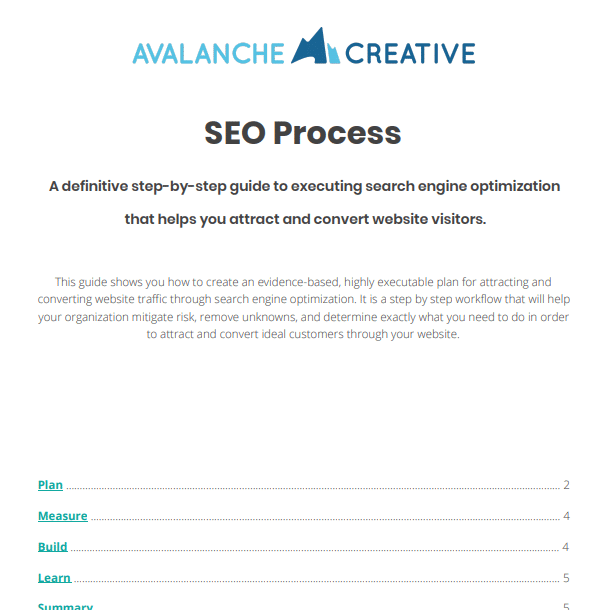 A step-by-step guide to SEO that attracts and converts website traffic.



👉 Create Your Own SEO Process
Join our weekly email and learn how to create and execute an evidence-based SEO process.