Our Step by Step SEO Process [SEO SOP]
This guide shows you how to create an evidence-based, highly executable plan for attracting and converting website traffic through search engine optimization. It is a step by step workflow that will help your organization mitigate risk, remove unknowns, and determine exactly what you need to do in order to attract and convert ideal customers.
🚨 ARE YOU UP FOR THE CHALLENGE? 👇
Get a Bullet-Proof SEO Strategy
Meaningful results from SEO are nearly impossible without a process. Every website deserves needs a custom process to execute SEO. We've got the process for creating YOUR process. Apply to get yours.
This article breaks down our team's internal step by step SEO process. It has been broken down into 4 key areas:
Each step in the process includes a brief description of what we do in each of the 4 steps as well as links to other resources. This is a high-level overview of our SEO process workflow. For a complete list of SEO strategies and tactics to complete in a custom SEO SOP (Standard Operating Procedure), skip down to the complete SEO process.
An evidenced-based approach to SEO is like creating a custom battle plan for SEO success. It's not an easy endeavor, but with a thorough process, you can achieve results much faster.
We offer to build these custom "battle plans" as a service in our initial engagements. Alternatively, you can learn how to build these yourself through our course. Also be sure to check out our SEO packages to see if they might be a good fit for your organization.
Plan
In order to mitigate risks and obtain the results you are looking for, it's important to carefully and meticulously plan the work you'll do.
Research
Complete comprehensive research to identify total addressable market and demand in the search engines.
Complete thorough customer research.
Interview, survey, whatever it is – listen to your customer. Get obsessed with caring more for who they are, what questions they have and how they think. The better you understand and empathize with them, the better your results later on. Get our Customer Research SOP.
Perform keyword research.
Informed by the customer research, use a keyword research tool (we use SEMRush) to find keywords that your target customer is searching for. Be sure to use the language your customer uses to get ideas for keywords and look at the questions asked in Google. This will give you ideas for what you should be writing about. Get our Keyword Research & Mapping SOP.
Perform keyword analysis.
Go through your keywords and make sure they are the right keywords to focus on. Search them in Google and see what comes up. Do the results match the intent? What other keywords come to mind when you look through results? Add them to your keyword list.
Development
Develop a data-driven, demand-based plan for dominating the search market.
Build a sitemap.
Use your carefully-researched keywords to build a website sitemap, based upon actual search demand in your market. If you already have a site, build off your current sitemap or take this time to reevaluate your content architecture.
Create a keyword map.
A keyword map can be created in a Google Sheet or Excel file. This breaks down all relevant target keywords you've researched into groups to help you determine a possible return on your search engine marketing investment. It takes total monthly search volume and follows traffic all the way through to sales conversions to estimate potential value.
Create SEO content templates.
For each one of your target keywords that will eventually become pages or articles on your website, create a Google Doc. Use a tool like LSIGraph to get ideas for what people search for related to your keywords.
Put together a custom SEO Guide (Standard Operating Procedure).
Based upon the work you've done so far, put together a custom SEO SOP. This is a living document that you should use to inform what SEO activities you should do and how.
Measure
Measure results before you begin executing your SEO plan because you can't improve what you don't measure.
Create a project with SEO software.
Add your keywords and list of competitors to a project and compare your current rank to competitors to identify competitive advantages/disadvantages. Look for opportunities where your competitors are ranking and you aren't. This could often lead to identifying a quick win.
Track website conversions.
If you aren't already, make sure you are tracking all website conversions that matter to your business. This could be forms, phone calls, store visits, etc. Make sure Google Analytics is setup properly so you know where your conversions are coming from.
Build
Once you've planned the work, begin working the plan (your custom SEO Guide).
Begin executing the SEO SOP.
The SEO SOP is a master checklist of what you should do, with priority to your site.
Write valuable content.
Using your previously created SEO content templates, write or improve new content for the target keywords. Start with the lowest hanging fruit first. The low hanging fruit should have been identified after setting up a project in SEO software and doing a competitive analysis.
Create conversion collateral.
Every page should have a tailored offer relevant to the content on the page. For example, if you are a bakery and you have a wedding cake page, have a form or pop up offering a free tasting. This will help you turn more visitors into leads.
Identify backlink opportunities for your website.
Backlinks help increase your domain authority and trust. Once you've developed really helpful content for your audience, find other people or businesses in your industry that might be willing to mention that content on their website to help their readers.
Learn
Determine what's working and what's not and adjust the plan.
Analyze tracked keywords regularly.
Analyzing tracked keywords, viewing ranking changes can help you determine if and how newly published content and technical changes are supporting your goals of ranking for target keywords. This should help you learn where the gaps are in your content and how to fill them.
Analyze Google Analytics Data.
Tracking conversions and conversion paths can help you determine where to focus your strategy for best results and continue to reveal opportunities to attract and convert more qualified traffic.
Reevaluate your SEO SOP.
Go back to your custom SEO Guide from the planning stage and adjust as needed. This is a living document that you should add notes to and plan some of the finer details of SEO. Repeat the build-measure-learn process.
SEO Process Summary
The most crucial part of any SEO project is understanding your target audience and empathizing with them. This approach to SEO works really well when you take the time and go through the process of learning to care more about your customer and their search journey.
Content
Content is the cornerstone of search engine optimization. Your site's content strategy is crucial to becoming an authority in your industry.
Ranking
Ranking comes down to three major factors; relevancy, trust, and technical.
Relevancy: Do you have content, a page or article, on your website that is relevant to the search query (keyword) of the user?
Trust: Is that content trusted across the internet? Do other high-authority websites link to the relevant page on your site? Does your business have good reviews, etc.
Technical: Are the technical aspects of your site optimized? Does your site load fast? Is it mobile-friendly? Does it load over https, etc.
Ready to Improve Your SEO?
Industry Guides
While we don't have an SEO process for every industry we've worked with, we do have a few industry-specific SEO guides available:
SEO Process for a New Website
If you're going to build a new website, it's crucial to consider SEO. In fact, we argue that SEO should be the driver of what you build in a new website.
Organic search is responsible for 53% of all traffic to websites across the internet, according to research from this Search Engine Land article. So there's no doubt it's important.
Here are the main steps in implementing an SEO process for a new website:
SEO Tools: For creating an effective SEO strategy.
Keyword Research: To understand how your target audience searches and identify relevant keywords.
Sitemap Planning: For organizing keywords into topics that become pages and posts.
Content Creation: Creating SEO content for each of your web pages.
On-Page SEO Tactics: For optimizing the pages on your website to appear in the search engine results page.
Learn more about how to implement an SEO process for a new website.
Frequently Asked Questions
What is an SEO Process?
A search engine optimization process is a step-by-step strategy for optimizing the content and user experience of your website in order to obtain free or organic traffic from search engines.
How are sitemaps important for the SEO process?
Sitemaps are important to the SEO process because they help you organize content on your site. The organization of your content helps Google and other search engines understand your site better, which makes it easier for them to recommend your site to searchers.
What should be the first step of any SEO process?
The first step of any SEO process should be to understand your target audience. This will help you perform keyword research better and identify ways to offer your target audience a great experience.
Why is SEO a long term process?
SEO is a long-term process because it takes a lot of time to earn trust and authority for your website that search engines can validate. Both trust and authority are built by offering your audience the best content and resources the web has to offer that best match the searchers' intentions and validation that your brand and resources are the best, which often comes in the form of backlinks.
The Complete SEO Process
The SEO process below includes a detailed break down of our SEO and content strategy process. It includes every strategy and task we may perform on a client project.
Use this to understand the details of our work and how you can approach a comprehensive, evidence-based, SEO and content strategy that generates leads and builds demand for your brand.
SEO Project Setup
Starting an SEO campaign is no small endeavor. You need a thorough process to approach the work you'll do. There are hundreds of tasks to perform and dozens of strategies to create.
We live by the motto, "plan the work, then work the plan."
Using Google Drive, Asana, Slack, and SEMRush, we set up your project.
Once we have your project set up, we'll send you our SEO Discovery Questions form to complete. This form helps us get started on comprehensive keyword research.
Task List
Setup Your Project in Google Drive.
Modify and Send SEO Discovery Questions Form.
Get Access to Your Website Properties (Google My Business, Google Analytics, etc.)
SEO Audit
An SEO site audit allows us to fix any on-site or technical issues with your website that could be impacting your search engine visibility. We'll run through a complete list of on-page, off-page, and technical checks.
It's kind of like getting a complete inspection of your house, but also fixing every flaw and enhancing the quality of every room in the house.
The SEO Audit is done at the beginning and is mostly tactical SEO (performing tasks), while the rest of our processes are strategic SEO (planning and execution). We break up our SEO audits into 6 different types:
Task List
To Complete All Audit Tasks We:
Crawl Your Website with Screaming Frog.
Gather Site Errors with SEMRush.
Check & Address the 62 Audit Tasks.
Keyword Research
Once you complete our SEO Discovery Questions form (sent to you in the Project Setup phase) our team begins our investigative process of keyword research.
Our keyword research process is both creative and analytical.
By getting to know your customers, the product/services you offer and the problems they solve, and current results in the search engines, we can better understand and empathize with your target audience.
This empathy allows us to build a comprehensive list of keywords that will inform:
Low-funnel opportunities (searchers that are ready to buy)
Mid-funnel opportunities (searchers that are investigating/self-educating on a relevant topic)
High-funnel opportunities (searchers that may not be doing either, but likely could become buyers)
Comprehensive keyword research allows us to determine what content is important to your customers and how to organize that content into topics that become pages/posts and other resources on your website.
Identify: Keyword research is the process of identifying popular words and phrases people actually search for in search engines.
Intent: Intent involves trying to determine what the ultimate goal of the searcher is based upon the keyword or phrase.
Implement: Keywords and intent should become ideas and topics that define what content you implement on your website.
After the initial keyword research and developing a sense of search empathy for your customers, we start organizing.
Task List
Create a Keyword List in SEMRush.
Export Initial List into Google Sheet.
Organize Google Sheet Keywords into Groups.
Client Review of Initial Keyword List.
Create a Keyword Mapping Spreadsheet.
Keyword Clustering Segmented by Buyer's Journey.
Sitemap Planning
Using Slickplan we build a new sitemap or import your current website sitemap.
With Slickplan, we organize content logically in order to offer your target audience the best user experience.
All the keywords we've gathered from our Keyword Research phase become topics, which become pages and posts on your website.
EXAMPLE: Imagine you are a food blogger.
Your categories will be meals: Breakfast, Lunch, & Dinner.
Your tags will be types of food: bacon, cheese, onions, etc.
Now understand that both meals and types of food are topics, and topics need to be organized well for a great experience and to make helpful connections. For example:
Bacon can (and should) exist in recipes for all three meals, but bacon alone is not a category of a meal.
Users of the site should be able to browse all bacon recipes for breakfast meals, or…
Browse all recipes with bacon, regardless of the meal.
You should also consider what food recipes pair well together to continue to make helpful recommendations to your website visitors.
You can see how SEO quickly becomes about organizing and managing content in order to offer a better user experience.
Users love it, and therefore Google loves it. So we do it.
Task List
Create or Import Your Sitemap.
Reorganize Content.
Add New Pages/Post to Sitemap.
SEO Competitive Analysis
Using SEMRush and Google Docs, we perform a competitive analysis.
An SEO competitive analysis helps us determine who is currently getting the valuable traffic we have identified in the keyword research phase.
It also helps us understand how they are getting that traffic, which often comes down to offering better content and overall better website experience.
With the information gathered from a competitive analysis, we can determine:
what content to prioritize creating and publishing first.
how to differentiate and compete for valuable traffic.
ways you can help your potential customers.
Task List
Analyze the Domains of Competitors.
Identify Top-Performing Pages.
Analyze URLs of Top Position Keywords.
Present to Client for Approval.
Content Planning
After completing our keyword research and competitive analysis, we move into content planning where we'll determine, page by page, the details of what content you'll need in order to:
rank higher and compete for valuable search engine visibility.
provide the best experience to your customers, satisfying their search intentions.
We build SEO Content Templates which provide specific recommendations and directives for creating new or improved content on your website with the purpose of improving your SEO.
The goal of an SEO Content Template is to outrank your rivals in the search engine results page for your targeted keywords.
Writers and other content creators (photographers and videographers, for example) are given a framework for exactly what they need to produce for their audience.
We create an initial set of SEO Content Templates during our initial engagement and then deliver a set amount each month on a retainer. The number of Content Templates depends on the goals of your business.
Task List
For Each Content Template:
Review Keyword Data and Perform More Keyword Research.
Input Topically Related Keywords into the Template.
Break Down the SEO Content Template Into Sub-Topics.
Organize Templates in Folders to Match Sitemap.
Once Completed, Send to Writer.
Ready To increase Your Online Conversions?
Content Creation
With the direction of our SEO Content Templates, we work with content creators to create the best content to satisfy the intentions of the searcher.
Satisfying the search intentions of the user is what Google is trying to do. Through our entire approach, we're attempting to do the same.
Once the content is created, we manage the publishing of new content and making consistent updates to existing content.
This is what builds momentum – Helpful, customer-centric content is what will increase your organic traffic, rankings, leads, and sales.
Task List
For Each Page or Post:
Create Written Content.
Publish Written Content.
Page SEO Meta Data Written.
Post Categorized.
Featured Image Set.
Internal Linking.
Content Promotion
Once any new piece of content is published, it should be shared with the world.
This includes identifying how this content fits into the rest of your digital marketing strategy and distribution channels such as:
Email Marketing
Social Media Marketing
Paid Advertising
Content that is evergreen should have both a short-term and long-term promotional strategy, which could include link building to validate authority.
Links from other sites to yours are votes of confidence. Google looks at your link profile (the quality and quantity of "votes") as a signal that you can be trusted.
Task List
For Each Page or Post:
Identify Potential Backlink Opportunities.
Execute Link Building Campaign.
Promote Content on Google My Business.
Strategy & Reporting
During our SEO Audit, we'll make sure to properly set up source tracking, website pixels and scripts, and set up Goals in Google Analytics with Google Tag Manager to track conversions.
This allows us to measure the success of our deliverables.
While we might show you traffic and rankings, we don't report on them.
Traffic and rankings are often misused as vanity metrics. They are symptoms of what any business is actually looking to achieve – results like leads and sales.
We report on your desired results and work backward, analyzing the data to show you how our work is increasing your ability to generate qualified leads and improve your industry authority.
We do this by sending you a custom, recorded video report at the end of every month as well as a custom PDF report generated by Google Data Studio. Our Google Data Studio reports help you visualize the story of your website, particularly how our SEO work to the website is performing over time.
Task List
Analyze Google Analytics and Google My Business Data.
Analyze Organic Research in SEMRush.
Identify Content Gaps and Opportunities.
Readjust 90-day Strategy.
Send Video & PDF Reports to Clients.
The Avalanche Email: Fun. Simple. Educational. No Selling.
Learn Result-focused SEO & Content
Join over 2,272+ others who get one email every Wednesday with simple instructions on how to get more website traffic and leads through SEO and content marketing. (Learn more about the email)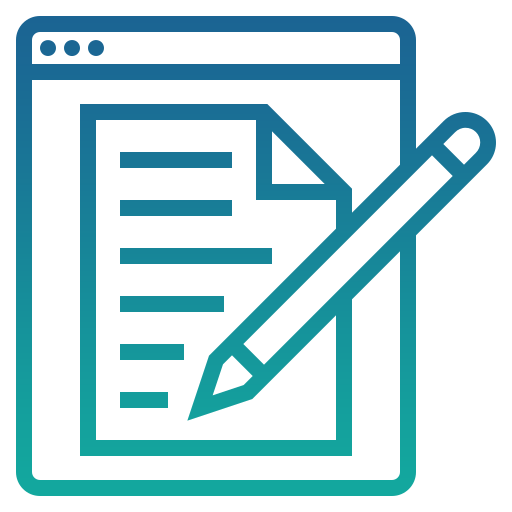 PDF
Download our SEO Process.
Download our SEO Process PDF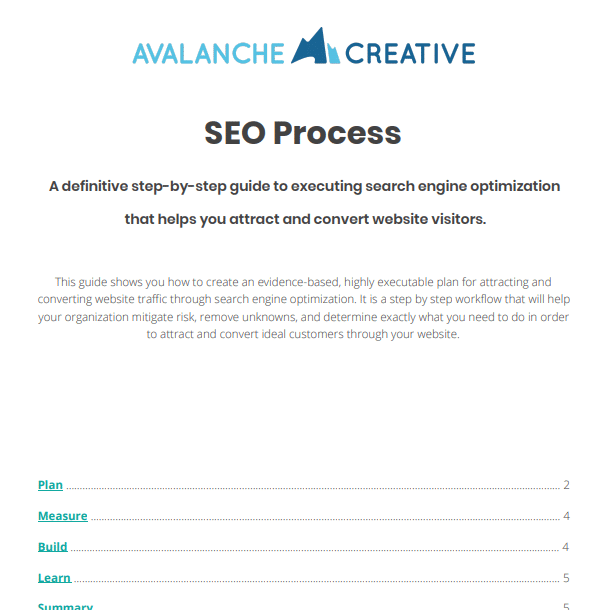 A step-by-step guide to SEO that attracts and converts website traffic.



👉 Create Your Own SEO Process
Join our weekly email and learn how to create and execute an evidence-based SEO process.