Build A Lead Generating Website
Landscape Business Course
This course will teach you exactly how to build a landscape business website that generates leads.
no coding or design skills required.

learn by actually building a website.

generate leads and grow your business.
new content added regularly.
START FOR FREE
Take the Course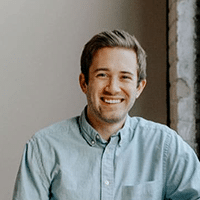 Who's teaching this course, anyway?
Lance Beaudry, Co-Owner of Avalanche Creative
I went to school to be a teacher. (Mostly because I wanted an audience to listen to my bad jokes every day.)
For the past 6 years, I've built Avalanche Creative on a shoe-string budget. No formal training. Just learning by doing.
Today, Rayanne, my wife and co-owner, and I are living the lifestyle we desire because of my insatiable curiosity and desire to teach and learn. This allowed me to teach myself how to grow businesses by using websites.
I built Avalanche Creative and help other businesses grow theirs with the exact same approach as I teach in the course. 
What you'll learn and acheive:
This isn't a course that will fill your head with knowledge you won't apply.
You're going to build a landscape website capable of real results (if you do the work) like others have:
Course Content
The course is broken down into three modules, which have multiple video sessions.
In this quick module, we'll go over the basics of building a lead-generating "demand-based" website. 
Module Sessions
Overview of Demand-Based Websites.
How to Use this Course.
This module teaches you how to identify exactly what you need on your landscape or lawn care website in order to bring valuable, free, organic traffic to your site and grow your business.
This process will teach you how to build an evidence-based SEO & content strategy step-by-step.
You'll learn everything at a 10,000-foot view and then fly down for a more detailed view.
Module Sessions
Project Setup
SEO Audit
Keyword Research
Sitemap Planning
Competitive Analysis
Content Planning
Content Creation
Content Promotion
Strategy & Reporting
What You'll Accomplish
You'll learn how to organize your content on your website and why that's so important.
You'll find opportunities to attract valuable traffic through your competitors.
You'll learn the SEO basics and best practices.
You'll create content that your audience will love.
You'll learn how to determine what's working and what's not on your website.
This module teaches you how to build your website quickly with our WordPress site, Base Camp. You'll build and launch a website you can easily manage and you'll know exactly what to do to put it to work - generating leads and sales; growing your business.
Module Sessions
Setup Hosting
Building Your Website
What You'll Accomplish
You'll learn the basics of hosting and getting your site setup (it's really easy).
You'll learn how to quickly build a drag-and-drop website in WordPress.
You'll launch your website and start building momentum.
Related Resources for Landscape Businesses:
Here's how we generated 157 local hydroseeding leads for a material placement company in 2020. Want results like this? Contact us.
Trap Bag is a client of ours that provides low-cost, rapid deploy erosion control solutions. This is our case study of early SEO success.
START FOR FREE
Take the Course