Convert More Website Visitors
Conversion Rate Optimization Services
We provide conversion rate optimization services that help you convert more traffic into subscribers, followers, leads, and buyers.
Featured on OptinMonster for converting 30% of website visitors for one of our customers.
Read the Article
Build > Measure > Learn > Repeat
Converion Rate Optimization Process
What makes our CRO services unique? Our process of building a results-driven strategy.
We start by defining the measurable (email subscribers, leads, contact requests, sales, etc.)
Build: We do a complete site audit to understand and empathize with your site visitors / potential customers. This is where we collect ideas for user experience improvements and conversion collateral that will be irresistible to your audience. Then we build an initial campaign based upon identifying the best landing pages.
Measure: We look at the initial results of our campaign(s), run some tests, and see if and how well each campaign is converting traffic. 
Learn: We regularly (on a monthly basis) make adjustments to increase the conversion rates.
Repeat: We do it over and over again for new campaigns on a monthly basis.
There's no set it and forget it with our CRO.
As soon as we find a campaign that starts getting results, we move on to help you optimize that campaign regularly and explore new ideas for more campaigns on a regular basis.
Quite simply, we build momentum so that every month you are investing in our services, you're getting more and more results.
User experience improvements.
Call to action improvements.
Landing page ideas.
Sales funnel ideas.
Managed campaigns (pop-ups, slide-ins, and in-line forms for converting traffic).
Our conversion rate optimization services start at $500/month for one campaign. An additional initial engagement fee applies and is provided at a custom rate.
Our initial engagements allow us to put a plan together to determine exactly what we need to do to help turn your website visitors into potential customers.
Schedule a call with us to chat about CRO.
Visualize your current CRO opportunities.

Get ideas and actionable advice.

No hard-selling.
Why Choose Avalanche Creative as Your CRO Company?
Our CRO Process
We don't build campaigns on speculation. We build CRO campaigns on evidence. 
Empathy-Based
We develop empathy for your target audience. This allows us to create campaigns that your website visitors will respond to.
Transparent Reporting
You get a custom Google Data Studio dashboard that helps tell the story of your website, keeping us accountable for our work.
Impeccable Responsiveness
We respond to 100% of customer inquiries within 2 business days, usually the same business day. 
Direct Relationships
You'll be working directly with CRO experts who are also talented educators. You'll have a lot of facetime with our team because quality collaboration yields excellent results.
Defined Measurables
We break down our CRO services into clear deliverables (what you'll get from us every month) and report on how those deliverables influence your business' KPIs. 
Frequently Asked Questions
That depends on how much traffic you are getting and the current quality of that traffic. We'll be able to estimate how long it will take to start converting website visitors into leads once we analyze your website stats.
The jack of all trades is master of none. A full-service marketing agency is tasked with managing an entire budget and often overlooks and undercapitalizes CRO.
CRO is never over. There are always opportunities to convert more traffic.
Are You Ready for More Conversions?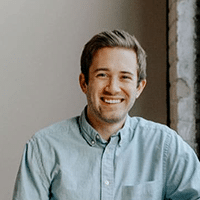 Co-Owner of Avalanche Creative
Lance Beaudry
Lance will follow up with an email to set up a call to see if we can help you get the results you're after.