The Avalanche Course
Build A Lead Generating Website
This course will teach you exactly how to build a website that generates leads.
no coding or design skills required + all the tools you need.

learn by actually building a website.

generate leads and grow your business through SEO.
perfect for local businesses, side-hustlers, and bloggers.
new content added regularly.
***We built our business and clients' businesses through the approach taught in this course***
GET STARTED
Take the Course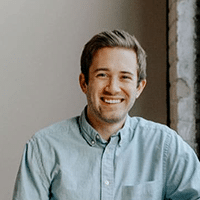 Who's teaching this course, anyway?
Lance Beaudry, Co-Owner of Avalanche Creative
I went to school to be a teacher. (Mostly because I wanted an audience to listen to my bad jokes every day.)
For the past 6 years, I've built Avalanche Creative on a shoe-string budget. No formal training. Just learning by doing.
Today, Rayanne, my wife and co-owner, and I are living the lifestyle we desire because of my insatiable curiosity and desire to teach and learn. This allowed me to teach myself how to grow businesses by using websites.
I built Avalanche Creative and help other businesses grow theirs with the exact same approach as I teach in the course. 
What you'll learn and acheive:
This isn't a course that will fill your head with knowledge you won't apply.
You're going to build a website capable of real results (if you do the work) like others have:
500% Increase in Website Traffic
Course Content
The course is broken down into three modules, which have multiple video sessions.
In this quick module, we'll go over the basics of building a lead-generating "demand-based" website.
Module Sessions
Overview of Demand-Based Websites.
How to Use this Course.
This module teaches you how to identify exactly what you need on your website in order to bring valuable, free, organic traffic to your site. This process will teach you how to build an evidence-based SEO & content strategy.
You'll learn everything at a 10,000-foot view and then fly down for a more detailed view.
Module Sessions
Project Setup
SEO Audit
Keyword Research
Sitemap Planning
Competitive Analysis
Content Planning
Content Creation
Content Promotion
Strategy & Reporting
What You'll Accomplish
You'll learn how to organize content on your website and why that's so important.
You'll find opportunities to attract valuable traffic through your competitors.
You'll learn the SEO basics and best practices.
You'll create content that your audience will love.
You'll learn how to determine what's working and what's not on your website.
This module teaches you how to build your website quickly with our WordPress site, Base Camp. You'll build and launch a website you can easily manage and you'll know exactly what to do to put it to work - generating leads and sales; growing your business.
Module Sessions
Setup Hosting
Building Your Website
What You'll Accomplish
You'll learn the basics of hosting and getting your site setup (it's really easy).
You'll learn how to quickly build a drag-and-drop website in WordPress.
You'll launch your website and start building momentum.
Lifetime access to the course.
Most Popular
Lifetime access to the course.
One year of hosting your website ($360 value)
Base Camp included.
Frequently Asked Questions
You aren't going to just learn how to do what's taught, you are going to do it.
By the end of this course, if you follow through with it, you should have a website built that is positioned to generate traffic through SEO and leads.
Base Camp is our preferred stack of WordPress tools for building your website.
It's mostly based on Beaver Builder, a premium drag-and-drop page and theme builder.
It includes several premium plugins worth over $1,094/year.
The "Building Your Website" section of the course teaches you how to use this set of tools.
You can get Base Camp when you host your website through our partner account.
Great question. It's clearly the best value.
We want you to succeed and actually build something. When you take this course, we want to see your results for 1 week, 1 month, 1 year, and more later.
We know that if you actually get web hosting through us, you'll have what you need to get going.
After your one year of hosting, you can either continue hosting month-to-month at $30/month or $300/year.
We do occasionally offer discounts for just the Course. We have fixed costs for providing hosting, so we typically can't offer any discounts there.
Currently, the video modules add up to around 2 hours and 15 minutes.
But, the time it takes for you to go through each module and complete tasks to building a lead generating website may vary.
If you took the course and moved fast, you could have a pretty awesome site that's positioned for lead generation up within 10 hours.
But, if you really want to grow and get results, you'll need to continue to put work into it.
You'll need the following at a minimum:
An internet connection
Access to the course
If you want to actually build a site:
You'll need web hosting
A content management system
We provide both of those when you host with us.
Other software that we use within the course, which is optional, but will help you succeed, includes:
SEMRush
Slickplan
Google Drive
Asana